In order to keep your Dynamics 365 solution running smoothly, it needs to be supported. Dynamics 365 support will help you rectify any system failures quickly, and continuously enhance your solution long after implementation.
It can be difficult to understand exactly what Dynamics support consists of and how to access it. That's why, in this one-stop guide, we detail everything you need to know about Dynamics 365 support. We explain why you may need support, what support packages typically include and how much they cost.
Contents
What is Dynamics 365 support?
Microsoft Dynamics 365 support is essentially a third party help-desk that you can access whenever you require assistance with your Dynamics 365 application. You can access this support to fix problems, receive advice about enhancing your solution, or request additional training. Typically, Dynamics 365 support is provided in one of (or a combination of) three different ways:


From Microsoft themselves

Through a Microsoft partner

In-house via an internal support team
Dynamics 365 support is accessible via any of these options for all Microsoft Dynamics solutions; including Dynamics 365 Finance and Operations and Dynamics CRM.
Each of these support options has benefits and limitations, which we'll discuss in more detail below.
---

Why might you need Dynamics 365 support?
Dynamics 365 support is most often requested for break/fix queries where the solution isn't working the way it should, or for individual mistakes that need to be addressed and amended. Additionally, organisations may require Dynamics 365 support for other reasons, such as when a managed services contract with their initial Dynamics 365 implementation partner has ended and they are no longer sure where to access support.
Organisations may find it useful to work with a third party support provider for reasons other than standard break/fix assistance, such as to access additional training on how to utilise their system to its best ability, or keep on top of regular enhancements.
No matter your reason for needing Dynamics 365 support, you should utilise it to some degree in order to get the most out of your solution.
What could Dynamics 365 support include?
In terms of what a typical Dynamics 365 support package will include, this will depend almost entirely on whether you decide to form an in-house support team, get support directly from Microsoft, or request external support from a Microsoft partner.
Support should include break/fix capabilities, as well as access to advice on functionality and enhancing the solution; however, again, this will depend on the support method you choose, and the level of support you require. Generally, you should look for a package that offers support in the following areas:
Reactive services provide support and guidance when something goes wrong in your solution, and your team needs help. Whether it's for a one-off issue for a single user or a business-wide challenge, reactive services are something that every Dynamics 365 support channel should offer.
Sometimes, you know you are going to need help in the future. Regular updates from Microsoft and the need for a skills transfer are just two examples where proactive services help to pre-empt any issues and guide you through. While proactive services can be extremely useful, you won't get them as standard from every Dynamics 365 support channel.
The chances are that business has changed since you implemented Dynamics 365, which is why continual enhancement is vital to the success of your solution. If a Dynamics support channel provides this service, then they will continually monitor and suggest ways to improve and grow your platform. Again, this isn't something you'll receive as a standard, so it's worth thinking about how important it is for your business.
In order to get an idea of what Dynamics 365 support could include for your business, you first need to determine what your support requirements are, and which option can best meet these. Once you've identified this, you'll be able to understand if you can provide support in-house, or if you need to discuss a plan with either Microsoft or a partner.
How can you access Dynamics 365 support?
You can access Dynamics 365 support in a number of ways, with the most common methods being either via Microsoft themselves, a Microsoft partner, or in-house if you have the capability to do so. Let's take a look at what these options consist of, and the pros and cons of each.

Dynamics 365 support from Microsoft
You can get Dynamics 365 support directly from Microsoft if you wish; it's available to all Microsoft product users (except those with older solutions) and priced on a monthly basis. Microsoft's support is of a good level - they're very reactive, and due to the size of the organisation, can offer support globally. However, Microsoft support is basic, and won't be tailored to your business.
It's also worth bearing in mind that Microsoft is ending support for older solutions (such as Dynamics AX, for which support is ending in 2021), so you will have to consider a Microsoft partner or an in-house team if you're using one of these systems.
If you implemented your solution with a Microsoft partner then you're much more likely to get a support package that takes into account the needs of your organisation, can help you with any issues, and provide proactive support. While Microsoft's Dynamics 365 support will be an excellent reactive services package, it may be worth considering other options if you require more than this.
In-house Dynamics 365 support
Businesses can choose to provide in-house support for their Dynamics solution, which is often referred to as a 'competency centre' or 'centre of excellence', comprising a support desk, and a team of Dynamics experts. It is popular amongst enterprise level businesses where this support method makes sense due to the size and nature of the organisation, and who can afford to pay the salaries of a highly experienced team.
However, managing Dynamics 365 support in-house can become challenging. In order to have a successful competency centre, in-house Dynamics experts will need regular training to keep their knowledge up to date, and to ensure that they are able to solve any issues that arise. Unsurprisingly, this can lead to increased costs, which is why many businesses will take a hybrid approach, managing some support in-house, and outsourcing to Microsoft or a partner when they require additional assistance.
Dynamics 365 support from a Microsoft Partner
Many organisations will choose to get Dynamics 365 support from a Microsoft partner. This is a popular route, as many businesses will have been through an implementation with a Microsoft partner already, so will use their support channel as a natural progression. A Microsoft partner who has already implemented your solution will understand it inside-out, and have a better understanding of your business requirements. Many Microsoft partners refer to their offering as 'managed services', as most will go above and beyond just standard support, and offer additional services.
Supporting older versions isn't an issue for partners either, as many will have experts able to provide extensive support for systems both new and old - including ERP and CRM solutions.
Choosing a Microsoft partner to provide you with Dynamics 365 gives you a wider access to different kinds of support, as well as the ability to enhance your solution even further.
Find out what we offer as part of our comprehensive Microsoft support packages. Get our Managed Services Catalogue: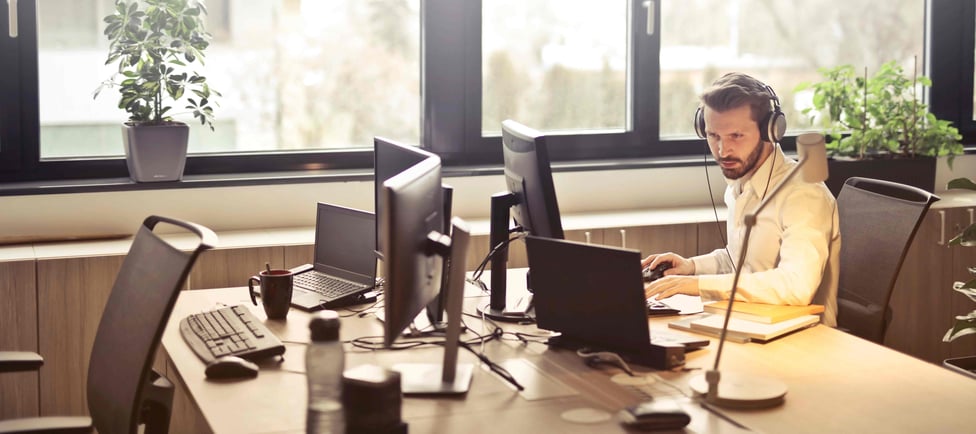 How much does Dynamics 365 support cost?
When it comes to understanding how much Dynamics 365 support will cost, it depends on which support channel you're using, and the level of support you require.
If you choose to form an in-house support team, this will come with additional costs such as employee salaries and training. Since you'll likely need a team of 4-5 people to get the level of service you need, this can make running an in-house support team a costly process. It's also likely that you won't be able to access in-house support each time you need it, so you may want to consider a peak hours support package from a partner.
Choosing to go direct with Microsoft is a more reasonable cost, priced at per user, per month - making it easy to understand what services you'll receive. However, as stated previously, Microsoft's support level is fairly basic, so it's worth thinking about what you want from a Dynamics 365 support provider, and if Microsoft's offering is too limiting.
Microsoft partners have the most flexibility when it comes to pricing; as many won't have fixed packages or costs, and will be a lot more adaptable to your individual circumstances. Support from a Microsoft partner can also be easily scaled or reduced as your requirements change - ensuring that you are actually using the support you're paying for.
---
---
Why choose a Microsoft partner for Dynamics 365 support?
If your business requirements indicate that a higher level of proactive support or continual solution enhancement is needed, then choosing a Microsoft partner is the way to go. While Microsoft offers great break/fix support, they aren't able to provide the tailored service of a Microsoft partner.
The level of service depends on the partner you choose - as some partners will be more engaged than others. For example, many organisations will choose to get support from the partner that implemented their solution, yet find that they aren't as proactive when it comes to enhancement.
Sound familiar? Check out our blog on how to switch managed service providers.
What to look for in a Microsoft partner
Whether you're choosing a Microsoft partner for the first time or switching from your current support provider, there are some factors you need to consider to ensure they are the right fit for your organisation, including:
The services they provide
It's important to understand whether the partner you choose offers a full range of services. This means going beyond standard break/fix to provide proactive support, training and advice on how to enhance your solution.


How personalised their service is to your business
If your requirements are specific, then you need a partner that can tailor a service to meet them. A good Microsoft partner will work with you to understand your needs to ensure they can provide the appropriate level of support.
Their transitioning services (if you're moving from one partner to another)
If you're looking at changing managed services providers, then it's worth understanding what the transition process is for your chosen partner. They should provide you with a seamless experience, including handover and set up, as well as understand your business requirements and day to day operations.


Some organisations will sign up for a managed service, only to never be contacted by their provider. In order to get the most out of a Dynamics 365 support package, you need a partner that is genuinely enthusiastic about your business and eager to help you enhance your solution. A good partner wants to build a lasting relationship, by having dedicated support members and Dynamics 365 experts who can look at the pipeline of planned system changes and discuss how to make them work for your business. Without this proactive element, you're unlikely to get a good service for your investment.
Proactivity is a standout of our offering at Inciper, which is why so many businesses choose us as their managed services provider.
Get Dynamics 365 support from Inciper
We don't believe Microsoft Dynamics 365 support is a one-size-fits-all service, which is why we go beyond typical break/fix support, and provide you with an extensive catalogue of services to choose from. This ensures that you get the right level of support, guidance and training you need - rather than a package of services you will never use.
Our proactive approach means we want to do more than fix your system problems, and work to see where we can enhance your solution. We aren't a partner that will never contact you unless we need to. Instead, we go out of our way to ensure you're getting the support you need - offering advice and training to users wanting to get more from their Dynamics solution. Our managed services consultants are experts in their fields and can provide the right advice at the right time for your needs across Microsoft Business Solutions, including Power BI and the Power Platform.
At Inciper, our goal is to build a longstanding relationship, and help businesses get the most out of their solution - long after it is implemented.